"
Okudera and Koarai from Azuma Squad aren't so strong alone, but in a short-distance team combat, they're as good as my squad. With these two in the team, they can take down various high level opponents. And best of all, Azuma Squad has the old leader of the best A-Rank Squad, the first Sniper: Haruaki Azuma.
"

–Sōya Kazama about Azuma Squad, in Haruaki Azuma 2.[1]
Azuma Squad (東 隊, Azuma-tai?) is an squad led by Haruaki Azuma. The squad has changed all its members except for Azuma himself at least twice before its present composition.[8] In its first iteration Azuma Squad was able to rank 1st in A-Rank. The former members have since become captains of their own squads, with the possible exception of the unknown Operator. At the start of the current season, the present generation was ranked 6th in B-Rank.
Members
[
]
Azuma Squad (Current)
Captain
Combatants
Operator
Azuma Squad 2nd Generation
Former Members
Takaaki Katagiri
(Gunner)

Yukimaru Ichijō
(Attacker)
Karin Yuitsuka
(Operator)
Azuma Squad 1st Generation
Former Members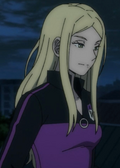 Nozomi Kako
(Shooter)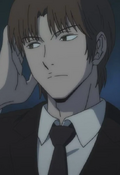 Masataka Ninomiya
(Shooter)
Shūji Miwa
(All-Rounder)
Uniform
[
]
In its current generation, the squad's uniform consists of a dark teal jacket with black stripes running through the sleeves and around the collar and also around the edges of the jacket, black pants, and brown boots. The jacket also has a pocket on the right chest, the squad's emblem on the left chest, and Border's emblem on each shoulder.
Background
[
]
The first generation used to be the No. 1 A-Rank Squad. After it was disbanded, all of its members have since become the captains of their own squads. They all appear to have a good relationship nevertheless. The identity of the Operator is currently unknown.
The members of the second generation would later go on to form Katagiri Squad.
Plot
[
]
Azuma Squad is sent to fight off Trion Warriors when they encounter a Rabbit. The Rabbit proceeds to easily defeat Koarai and Okudera, so Azuma shoots them before they can be captured. The other B-Rank teams come to support Azuma, when they are confronted by Lamvanein. Lamvanein's superior firepower causes him to have an initial advantage over the B-Rank teams. Azuma decides that if the battle were to become arbitrary gunfight, Lamvanein would emerge victorious. However, the arrival of Izumi, Yoneya, and Midorikawa allows the B-Rank teams to fight him and eventually win.
Match History
[
]
Round 2
Round 5
Round 8[10]
Trivia
[
]
They apparently went down in the ranking again despite winning at round 8.[10] This could be an error.
References
[
]
[

]