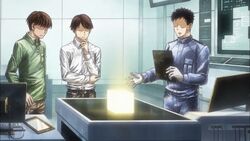 An Engineer (エンジニア, Enjinia?) is a member of Border's technical support staff who handles most of Border's technology-related parts, such as analyzing Neighbor technology and developing new Triggers. They are also responsible for customizing a Border agent's Trigger.[1]
There are two ways for someone to become an Engineer:[1]
Request to become one when enlisting.
Request for a transfer after enlisting.
In the case of Fuyushima, there are rare occasions where an Engineer was transferred to a unit as an agent.
Known Engineer
Edit
The author stated he would probably enjoy being an engineer, despite that not being his first pick as a position in Border.[2]
References
Edit
↑ Daisuke Ashihara: I think a Gunner seems fun. But I'm very bad at athletics (lol), maybe Operator (lol). They haven't really shown up in the story much, but there's a department of engineers, and they make and adjust triggers. I think I might have fun there too.
Source: Border Briefing File, World Wide Interview, Q7