The Expedition Force (遠征部隊, Ensei butai?) is a group of agents chosen by Border to go for Away Missions to the Neighborhood,
Most of the information regarding how the Force came to be as well as their pasts actions are unknown.
All agents or units must belong to A-rank at the time of the selection and pass through a rigorous selection process, and as such are deemed capable enough to battle Black Triggers. Following the attack carried out by Aftokrator (and shortly after by Galopoula and Rodochroun), Border's heads decided to select some B-rank agents to bolster the Expedition`s fighting force in order to rescue the kidnapped C-ranks, using Chika's massive trion level as fuel and so that the ship can be made bigger.
The members that participated in the latest Away Mission are as follows:
Other members have also been selected in the past, but have not been selected since:
Expedition Ship
Edit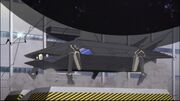 The Expedition Force uses Border's Expedition Ship as a means of transportation to the Neighborhood. The ship uses trion as fuel to fly and the amount of trion it uses depends on its size, and as a result, the ship is cramped to save trion. Even so, when the trion it carries is not enough to make a direct journey to their intended destination, they must make a stop in nearby Neighbor countries from time to time to refuel on the agents' own trion.
In preparation for a rescue mission to Aftokrator, Border decided to use Chika's massive trion level to increase the ship's size and range.
Away Mission
Edit
During the Away mission, the Expedition Force visits various countries, "jumping" from planet nation to planet nation, while collecting information and technology by force if necessary. Currently, the only known nation the force has been to is Menoeides.[2]
A new mission is being prepared to Aftokrator, which will be the largest and most ambitious yet, with the intent of rescuing the missing C-ranks.
References
Edit
Community content is available under
CC-BY-SA
unless otherwise noted.