Gieve (ギーヴ, Gīvu?) is a new character introduced in the anime's Fugitive Arc. He is a humanoid Trion Warrior created by Dr. Lamia as a prototype.
Appearance
[
]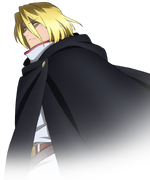 Gieve has shoulder-length blonde hair and matching yellow eyes. He wears a white-and-black military-looking uniform with red stripes around the edges and a black cape/cloak.
Personality
[
]
Gieve is known to be arrogant and hot-headed, but is also a cold and careful fighter. As shown in his flashbacks, he used to be kind and passionate.[3] When he realizes he was a Trion Warrior all along and his memories were implanted, he starts losing his mind, becoming insane.
Relationships
[
]
Due to the implanted memories,[citation needed] Gieve despises Xeno, and when Xeno reveals he doesn't know him, he assumes that Xeno forgot about him.[citation needed] He becomes obsessed with Xeno, to the point of losing his mind.[citation needed]
Gieve worships Lilith, calling her Ergates' beloved "goddess of destruction". He is willing to do whatever it takes in order to take her back to Ergates.[citation needed]
As shown in his flashbacks,[3] he was fond of Lamia. He is hinted to have feelings for her, and doesn't mind the fact she probably considered him a failure.[3][4]
Quotes
[
]
Trivia
[
]
His name might come from Gêv, one of the foremost heroes of the national epic in the reigns of Kay Kāvus and Kay Khosrow.
He shares his name with Gieve from The Heroic Legend of Arslan.
References
[
]
[

]
Template:Trion Warrior Template:Ergates