"
I now know where our opinions differ. Now, tell me where you agree.
"

–Haruaki Azuma to his unit, in Haruaki Azuma.[1]
Haruaki Azuma (東 春秋, Azuma Haruaki?) is a character in the manga and anime series World Trigger. He is the leader of Azuma Unit and former leader of the old Azuma Unit, a Sniper, and a B-rank Border Agent.
Appearance
Edit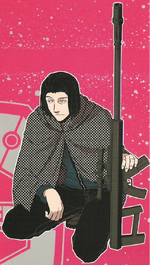 Azuma is a tall young man with neck-lenght black hair. He has black eyes and a noticeably big nose.
When he is in Trigger Mode, he wears a dark teal jacket with black vertical stripes along the shoulders and the sides of the sleeves, and horizontal stripes along his jacket's collar, and also black stripes on the jacket's borders. His jacket also has a pocket over the right chest, the B-rank emblem over the left chest and the HQ's emblem on the sides of the sleeves. He also wears black pants and brown boots, and a yellow shirt with a slit collar under his jacket.
Personality
Edit
Azuma is a very serious but friendly individual, as shown when he told Chika she didn't have to run after each shot during the training at the base,[4]and when he said she didn't have to worry about shooting through the HQ's walls during the training, as it was a "training accident".[2]
Relationships
Edit
(Commentating during Rank Wars) "They factored their inability to beat Arafune Unit in a long-range battle into their overall strategy. By choosing this stage and giving Arafune Unit an obvious advantage they created a natural allegiance with Suwa Unit. Tamakoma Second put a lot of thought into this urban battle." [5]
(To Koarai and Okudera) "Give me such tasks as much as you want, I'm one of the pawns too. But if you'd accept the opinion of a pawn, it would be a great help if you didn't choose such an elaborate map." [6]
(Azuma's motto, taken up by Koarai and Okudera) "When you fight with strategy, take into account the enemy's strategic prowess." [7]
(To Koarai and Okudera) "Four more days. Let's make this into a winning battle." [7]
He likes fishing, camping, sashimi, and tempura.
References
Edit
Community content is available under
CC-BY-SA
unless otherwise noted.