Haruaki Azuma (東 春秋, Azuma Haruaki?) is a B-rank (formerly A-rank) Sniper and the captain of the multiple generations of Azuma Squad.
Appearance
[
]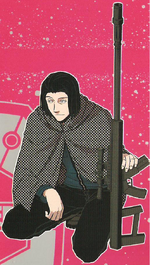 Azuma is a tall, light-skinned young man of average build with neck-length black hair. He has black eyes with pronounced tear-troughs and a big, straight nose.
In his trion body he wears a navy blue, long-sleeved jacket with black lines bordering the zipper and the high collar, which he keeps open, and running horizontally around it both on the inside and the outside. Vertical black stripes run from the collar to the wrists of the jacket, interrupted only where Border's logo is emblazoned on the outer side of each sleeve a little below the wearer's shoulders. On the right breast are two piped patch pockets closed by flaps, while on the left is the B-rank logo. Underneath the jacket is a light-colored shirt with a slit collar with three holes on each side of the slit through which passes a lace tied into a loose bow. The uniform is completed by a pair of black pants and dark gray boots.
Personality
[
]
Azuma is a very self-possessed individual. Though he may show emotion in dire combat situations,[5][6] he is able to retain the lucidity and analytical mind which have earned him the trust and respect of many a Border agent.[7] He has mentored several members of the organization, some of whom know him to be slier than the widespread image of him as a person incapable of underhanded tricks.[8] After transmitting his teachings[9][10] he mostly lets his students find answers on their own, limiting himself to asking questions,[7] taking the in rank wars only after his disciples have suggested a course of action[11] and only rarely stating his preference.[12]
Albeit pragmatic, Azuma is a genial person who can often be seen wearing a faint smile on his face. He is quite popular among agents,[7] occasionally treating some to meals.[13][14][15] He showed himself to be reassuring and slightly humorous when he told Chika Amatori not to worry about shooting through the base's wall while trying out Ibis.[16]
Quotes
[
]
Trivia
[
]
Taken literally, the kanji in "Haruaki" (

春秋

?) mean "spring" and "autumn". "Azuma" (

東

?) means "East".
He likes fishing, camping, sashimi, and tempura.[27]
Azuma has a driver's license.[28]
The author described Azuma as "low-tension, long-range, long-hair" in his profile in Volume 5.[29]
References
[
]
↑ 1.0 1.1 World Trigger Manga — Chapter 110 (p. 9)
↑ 2.0 2.1 2.2 World Trigger Manga — Chapter 17 (p. 12)
↑ 3.0 3.1 World Trigger Manga — Chapter 112 (p. 18)
↑ World Trigger Manga — Chapter 169 (p. 18)
↑ World Trigger Manga — Chapter 45 (p. 3-6)
↑ World Trigger Manga — Chapter 54 (p. 11-13)
↑ 7.0 7.1 7.2 World Trigger Manga — Border Briefing File (p. 133)
↑

Volume 20 Character Profiles

↑ 9.0 9.1 9.2 World Trigger Manga — Chapter 110 (p. 12)
↑ World Trigger Manga — Chapter 166 (p. 12)
↑ World Trigger Manga — Chapter 175 (p. 8)
↑ 12.0 12.1 World Trigger Manga — Chapter 110 (p. 11)
↑ World Trigger Manga — Chapter 83 (p. 11)
↑ World Trigger Manga — Chapter 120 (p. 15)
↑ Daisuke Ashihara: Q122: Azuma has an excessively large number of disciples, but is Satori's mentor Azuma too? A: Satori is an intuitive type so he's not Azuma's disciple, but he often gets treated to meals by him.
Source: Border Briefing File, Question 122
↑ World Trigger Manga — Chapter 17 (p. 12-13)
↑ World Trigger Manga — Chapter 58 (p. 17)
↑ World Trigger Manga — Chapter 60 (p. 12)
↑ World Trigger Manga — Chapter 88 (p. 18-19)
↑ World Trigger Manga — Chapter 91 (p. 7-8)
↑ World Trigger Manga — Chapter 91 (p. 17)
↑ World Trigger Manga — Chapter 166 (p. 12-13)
↑ World Trigger Manga — Chapter 175 (p. 18)
↑ World Trigger Manga — Chapter 177 (p. 3)
↑ World Trigger Manga — Chapter 177 (p. 4-5)
↑ World Trigger Manga — Chapter 177 (p. 8)
↑ World Trigger Manga — Border Briefing File (p. 132)
↑ Daisuke Ashihara: Q: Is there anyone of 18 and above who has a driver's license for a car or a bike? A: Aside from Reiji who has already driven in the story, it seems Fuyushima, Azuma, Suwa, Tsutsumi, Kako, and Kakizaki have normal driver's licenses. The top brass and Sawamura have licenses too. Tachikawa doesn't as you might expect. Zoe has a motorbike license, and Kage and Tōma have motorized bicycle licenses. It seems Arafune and Hokari want motorbike licenses too.
Source: Question Corner 15, Volume 20
↑

Volume 5 Character Profiles
[

]