Jurassic World: Dominion Dominates Fandom Wikis - The Loop
Play Sound
The Headquarters (本部, Honbu?) is the main facility of Border, run by Masamune Kido.
Overview
[
]
The base has a rather complex layout, as it can be customized as needed due to their possession of a Mother Trigger. This is seen most of all by Kinuta reinforcing the walls after Chika fired through the wall with an Ibis rifle. Corridors connect ajoining rooms large and small, including the Operator Rooms, the Holo-Display room, the Sniper Range, and more.
Since Izuho brings her cat in there and Yōtarō brings Raijinmaru, it's clear that animals are allowed in the building.
Solo Rank Wars Booths
[
]
Used by various agents of all ranks, these virtual simulation rooms allow a safe space to train and refine your skills. Hyuse complimented the technology, suggesting it's Border-unique; or at least, Aftokrator does not have it. Booths can be accessed through a common area featuring large screens tallying the day's match-up's.
Operator Rooms
[
]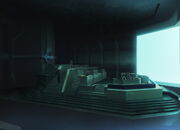 Each squad has their own operator room, or strategy room (C-rank squads dont't count as official squads, so Kōda Squad don't have one). A-Rank Squads have more space (complete with a kitchenette) and therefore more ability to customize their Operator rooms. When agents bail out, they typically head to these rooms that are equipped with beds to fall onto, although not all of them are at HQ, namely the branches. If they bail out inside the base, there are a series of vents that will take them to the Operator room of their squad which is mainly used during Group Rank Wars.
Holo Display Room
[
]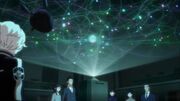 The room seen when the higher-ups meet with Yuma about information on the Neighborhood, where they have a holographic projection of the map of the Neighborhood. It is currently unknown if they ever use the projection for anything else, but it's set up so that there are rows of seats on three sides, with the holo projector in the center. Due to Replica's update, it houses a great deal of information gathered by Yūgo Kuga, Yuma's father.
Sniper Range
[
]
Considered the largest room in the base, it's where Snipers, especially the trainees, go to train and rank up. It's also where Chika blew a hole in the wall firing an Ibis.
Members
[
]
Saki Kusakabe

Shun Midorikawa

Ryūji Saeki

Kazuma Satomi

Hayato Uno

Jun Arashiyama

Ai Kitora

Mitsuru Tokieda

Ken Satori

Haruka Ayatsuji

Nozomi Kako

Futaba Kuroe

Mai Kitagawa

An Kobayakawa

Shūji Miwa

Yōsuke Yoneya

Tōru Narasaka

Shōhei Kodera

Ren Tsukimi

Masato Kageura

Yuzuru Ema

Hiro Kitazoe

Hikari Nire

Tatsuhito Ikoma

Satoshi Mizukami

Kōji Oki

Kai Minamisawa

Maori Hosoi

Kazuaki Ōji

Kazuki Kurauchi

Yutaka Kashio

Haya Kittaka

Haruaki Azuma

Noboru Koarai

Tsuneyuki Okudera

Mako Hitomi

Rei Nasu

Yūko Kumagai

Sayoko Shiki

Tetsuji Arafune

Atsushi Hokari

Yoshito Hanzaki

Rin Kagami

Yōko Katori

Yūta Miura

Rokurō Wakamura

Hana Somei

Kōtarō Suwa

Daichi Tsutsumi

Hisato Sasamori

Rui Osano

Kuniharu Kakizaki

Fumika Teruya

Kotarō Tomoe

Madoka Ui

Satoru Hayakawa

Ryōgo Funabashi

Seiji Marui

Asami Taya

Yūichirō Yoshizato

Hidetaka Kitazoe

Hanao Tsukimi

Asuka Asagiri

Hitoshi Matsushiro

Masakuni Hakoda

Yūya Tsuchisaki

Ayumu Hatori

Makoto Chano

Itsuki Fujisawa

Megumi Tokura

Mamoru Tokiwa

Tokiya Saitō

Waka Utsunomiya

Yoshinobu Kera

Hazuki Nanao

Others

[

]

Staff
Masamune Kido
HQ Commander
Chief Executive
Masafumi Shinoda
HQ Director
Defense Corps Commander
Kyōko Sawamura
Assistant HQ Director
Motokichi Kinuta
Research and Development Director
Eizō Netsuki
Public Relations Director
Katsumi Karasawa
External Affairs Director
Business Director
Raizō Terashima

Seiji Mizunuma
Human Resources Director
Residents
Ruka Shinoda