This page is about the character. For other intentions, see Hyuse (disambiguation).
"
Jin, remember that bet we made? I'm using that privilege now. No matter how you may do it, get me back to Aftokrator.
"

–Hyuse to Yūichi Jin
Hyuse (ヒュース, Hyūsu?) is a Neighbor from Aftokrator who after being caught in a battle with Jin ends up abandoned on Earth. After realizing his abandonment, he agrees to join Border, only as a means to make his way back home. After joining, he immediately rose to B-rank, and is now a member of Tamakoma Second while posing as Cronin's nephew under an alias; Hyuse Cronin (ヒュース・クローニン, Hyūsu Kurōnin?)[8][2].
Appearance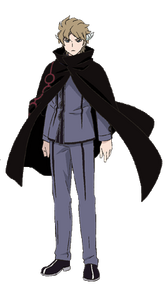 Hyuse is a neighbor with short, messy, light brown hair, pale skin and blue/green eyes. Like all other Aftokrator neighbors, he has two horns on his head, his being like that of a goat's. Hyuse's horns grow out of the back of his temples, above the ears, but their exact curvature isn't entirely consistent, and have been depicted pointing downwards, inwards and upwards inconsistently.
When his trigger is active, he wears a grey uniform akin to a gakuran. It has black stripes in the edges of the fastener, which appears to work like velcro, and black spike-like stripes running down from the shoulders, stopping before the edge. Over it, he wears a black cloak (which appears to be a trigger) with a red stripe on the left side, intersected with 5 circles which could possibly represent his rank. He also wears black shoes with white vertical stripe grey soles with short heels.
Ever since being left behind by his comrades, he starts wearing earthly clothes. He wears a black hoodie with brown edges and a grey symbol in his left chest similar to a devil's head, always covering his head. He wears it over a grey shirt with a black collar. He also wears ochre pants & black shoes with white/grey gloves. When appearing as a Border agent, he hides his horns by altering his appearance using a trion body.
As Border's C-rank, he wears a uniform similar to Yūma's. Later as a B-rank, he wears Tamakoma Second's uniform but with designs akin to a military uniform, which consists of shoulder straps, double stripes on the lower sleeves and aiguillette on his right shoulder. He has Tamakoma's emblem on his left chest under his squad's emblem.
Personality
Hyuse appears to be a calm and collected individual, rarely getting carried away. He also holds great respect for his superiors, like Hyrein and his teacher, Viza. However, he becomes extremely angry when taunted about his fellow countrymen or superiors, such as getting annoyed with Enedra for calling Hyrein a coward,[9] and when he assumed Jin was just taunting him when the latter told him Enedra has been killed by his allies.[10] He also cares deeply for House Ellin's head, which causes an inner conflict when presented with the possibility that Hyrein will sacrifice him.[11]
He has shown a rather competitive side in the trainee exams where he offered a re-do in order to beat Kuga's record.[12]
Quotes
Trivia
According to volume 8, Hyuse likes:

Carrying out missions
Being loyal
Drawing pictures
Dogs

He is the only neighbor in Aftokrator not to be seen in his regular Aftokrator clothes, due to not being defeated like the others.
He appears to have taken a liking to taiyaki, as he is frequently seen eating it after being left on Earth.
He also holds chopsticks with a weird grip, placing one between his index and middle fingers and the other between his ring and pinky fingers, instead of placing both between his index and thumb.[17]
Due to the way his horns are placed, he is unable to sleep on his back or side and can only sleep on his stomach.[18]
References