"
Shall I level this area with my Meteora?
"

–Izumi, to Miwa, [1]
Kōhei Izumi (出水 公平, Izumi Kōhei?) is a character in the manga and anime series World Trigger. He's a Shooter and member of Tachikawa Unit.
Appearance
Edit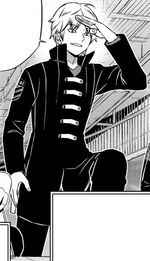 Izumi is a boy of average height. He has neck-length dark blond hair, and also golden eyes. When he is in trigger mode, Izumi wears a black longcoat with thin red stripes on it and a Border emblem patch on his left sleeve, just like the rest of his unit.
Personality
Edit
As shown in the manga, Izumi is a reckless person. He wanted to raze the whole battle field with Meteora in just to lure Arashiyama Unit out. Tōma also said that Izumi always comes up with harsh ideas.[1] However, this personality doesn't always show up, and he is actually quite intelligent and a good strategist.
Relationships
Edit
He likes fried prawns, croquettes, oranges, and using Full-Attack.
He is the one who discovered the composite bullets.[4]
In Japanese, his name "Izumi" means "flood" and "Kouhei" means "justice"
He was the fifth in 1st Valentine's Day Ranking and the first in 2nd Valentine's Day Ranking
References
Edit