"
Shall I level this area with my Meteor?
"

–Izumi, to Miwa, [1]
Kōhei Izumi (出水 公平, Izumi Kōhei?) is an A-rank Shooter and member of Tachikawa Unit.
Appearance
Edit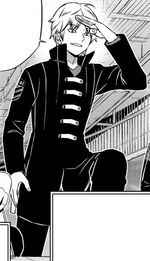 Izumi is a boy of average height. He has neck-length dark blond hair, and also golden eyes. When he is in trigger mode, Izumi wears a black long coat with thin red stripes on it and a Border emblem patch on his left sleeve, just like the rest of his unit.
Personality
Edit
As shown in the manga, Izumi is a reckless person. He wanted to raze the whole battlefield with Meteor in just to lure Arashiyama Unit out. Tōma also said that Izumi always comes up with harsh ideas.[1] However, this personality doesn't always show up, and he is actually quite intelligent and a good strategist.
Relationships
Edit
He likes fried prawns, croquettes, oranges, and using Full-Attack.
He is the one who discovered the composite bullets.[4]
In Japanese, his name "Izumi" means "flood" and "Kouhei" means "justice"
He was the fifth in 1st Valentine's Day Ranking and the first in 2nd Valentine's Day Ranking
References
Edit
Community content is available under
CC-BY-SA
unless otherwise noted.