Kai Minamisawa (南沢 海, Minamisawa Kai?) is a B-rank Attacker and a member of Ikoma Unit.
Appearance
[
]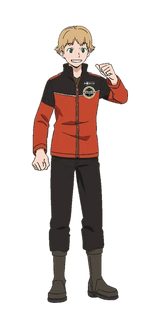 Minamisawa is a light-skinned boy of average build with big, round green eyes. His medium-length, sandy blond hair is parted in the middle, with spikes coming out on each side behind his ears. The locks on his forehead being gathered in two bunches which stop right above his eyes.
Minamisawa's uniform is comprised of a vermillion, white-zipped jacket. A horizontal white line runs across the chest portion roughly at the height of his armpits, whereas on the back it bends into a flat V-shape pointing downwards,[4] with an ornamental button right above the tip.[5] On the right breast, the white line encircles Border's logo, above which is emblazoned the B-rank emblem. Everything above the white line is black in color, including the high collar, which Minamisawa keeps open to reveal a round-collared undershirt; the only exception are the vermillion plain button epaulets. The sleeves are also black until roughly halfway through the humerus, after which they turn vermillion, and disappear into Minamisawa's thick gloves about an inch past the elbow. The gloves are black with a gray palm and a thin brown buckle that encircles them near the cuff.[4] The black portion of the sleeves and the collar bear a square motif that suggests padding. The uniform is completed by black pants with front and back pockets,[5] gray-brown boots that reach halfway up Minamisawa's calves,[4] and a pair of rectangular goggles with protruding lenses and a vermillion strap which he keeps around his neck, lenses at the back.[5]
Personality
[
]
Minamisawa has a laid-back and cheerful personality, such that he can almost always be seen with a big smile on his lips. He is very easily excitable and undeterred by resistance to his explosive enthusiasm,[6][7] which may cause him to barge into a conversation with a wildly exaggerated claim[8] or excessive eagerness.[7] He appears to profoundly enjoy combat.[9][10] These traits add up to constitute his marked tendency to rush into battle on his own, ignoring his teammates' advice.[11][10][12][13] It is only after he finds himself in a pinch that he is willing to heed their warnings[14] and proceed with caution.[15][16][17] Although he is opposed to multiple teams ganging up on a single target,[18] he is willing to go along with it,[19] and has no qualms about using deception.[20]
Relationships
[
]
Minamisawa appears to greatly admire Ikoma or anyway to seek to win his approval, as many of his excessive shows of enthusiasm follow one of the captain's statements.[8][21][7] Ikoma appears to be his only teammate who does not react to them coldly.[8][7] He refers to Minamisawa by his first name, without honorifics.[22]
Minamisawa is an endless source of frustration for Hosoi, whose warnings and urging to be cautious go routinely unheeded.[11][10][23][12] She addresses him by his first name, without honorifics,[11] whereas he appends the honorific -senpai to her nickname "Mario".[21]
Mizukami and Oki frequently dismiss Minamisawa's bursts of exuberance, which he does not appear to take to heart.[8][7] They both address him by his first name, without adding honorifics.[24][25]
Quotes
[
]
Trivia
[
]
He likes hotate scallop, cheese hamburger steaks, and meat-stuffed bell peppers,[29] and has the hobby of karaoke, which he is very proficient at.[13]
Unlike his teammates, he does not speak in Kansai dialect, as he is from Mikado City.[13]
Kazuaki Ōji's a nickname for him does not appear to be a pun based on his name or surname, which is generally the rule for agents younger than he is; however, it might be a reference to Kai-kun, a dog famous for appearing in commercials whose name is similarly written in katakana.

Ōji's icon for him is a Kewpie, a brand of dolls and figurines that were conceived as comic strip characters by cartoonist Rose O'Neill. A Japanese food brand was also named after them.

The author referred to him as "Kewpie 3-Minute Bail Out", a nod to Ōji's icon as well as his early defeat in round six, and as an "oopsie-daisy Attacker".[13]
References
[
]
[

]