Gen'yō (幻踊, Gen'yō, lit. Phantom Dance?) is an Optional Trigger exclusive to Kogetsu,[3][4] including its spear variant.[2] An attack carried out using this Trigger takes the name of Gen'yō Kogetsu (幻踊弧月, Gen'yō Kogetsu, lit. Phantom Dance Crescent Moon?).[2]
Appearance
[
]
Gen'yō has no physical manifestation outside of its effect on Kogetsu, whose blade it enables the user to morph at will.[1]
Overview
[
]
The origins of this Trigger are unknown. Due to its function, it cannot have been created before Kogetsu.
Abilities
[
]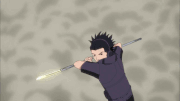 Gen'yō allows the user to freely manipulate the shape of Kogetsu's blade. It is often used as a counter-countermeasure as the user launches an attack with Kogetsu: if the target attempts to dodge,[5] the blade can be morphed in order to anticipate or follow their movement,[1] or it can be made to go around any defense they interpose.[2] This latter application is especially useful against Triggers that adversely affect weapons they come in contact with.[6] Particularly skilled users can synchronize the activation of Gen'yō so precisely that the opponent might fail to see the blade morph and to understand how they have been hit.[5]
Users
[
]
See also: Gen'yō Users
There are only two known users of Gen'yō:[7] Yōsuke Yoneya through his spear[2] and Yūta Miura in conjunction with a standard Kogetsu.[4] The former is particularly remarkable for seamlessly integrating the Trigger in his combat style.
Trivia
[
]
References
[
]
[

]