Large-Scale Invasion 13 (大規模侵攻⑬ Daikibo Shinkō 13?) is chapter 64 of the World Trigger manga.
Short Summary
[
]
Yūma begins fighting Viza. He manages to use his Trigger to trap Viza, but is ultimately unable to overpower the Neighbor's Organon. Finally, Jin continues his battle with Hyuse.
Long Summary
[
]
Yūma kicks Viza to the ground, and Jin advises Karasuma to go to the direct base, as the alternate entrances weren't working. Osamu shields Chika from an attack from Hyuse, resulting in him getting magnetic shards in his arm. Yūma decides a one-on-one fight would be the best to stop the duo, so he takes on Viza. He uses his Trigger to chain Viza, and when Viza used Organon to cut it, he attacked him with Anchor + Bolt Quadra to pin him to the ground. Yūma asks him why Aftokrator was invading Earth, and Viza replies that they were attacking other Neighbor nations, but they were very powerful. Replica begins to theorize that there was a problem in Aftokrator. Viza is able to use his cloak to disable the heavy bullets in his body. Meanwhile, Jin continues his battle with Hyuse, with neither side being able to overpower the other.
Characters in Order of Appearance
[
]
Triggers in Order of Appearance
[
]
Promotional Video
[
]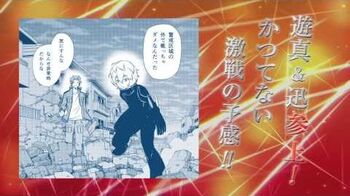 [

]