Large-Scale Invasion 16 (大規模侵攻⑯ Daikibo Shinkō 16 ?) is chapter 67 of the World Trigger Manga.
Short Summary
[
]
Midorikawa, Yōsuke, and Izumi help Karasuma and the others against the Rabbits. Osamu and Chika combine their abilities to launch an attack that completely decimates a Rabbit. Hyrein decides to join the battle as things become more difficult.
Long Summary
[
]
Karasuma orders everyone to flee from the Rabbits as there were too many to handle. However, Izumi, Midorikawa, and Yoneya arrived and took them on. Karasuma explains the situation to the three, and they begin their battle. Everyone is in awe at Izumi's Skill as a Shooter, and Osamu recognizes his emblem as A-Rank #1. One Rabbit chases Osamu, Chika, and Natsume. At first, Osamu was helpless against the Rabbit. But he remembers a training session with Ai Kitora, where Karasuma explained that the main advantage of ranged combatants was that it is easier to coordinate with than with melee weapons, and links with with Chika's Trion to launch a powerful Asteroid Cube, enough to decimate the Trion Soldier. This attack piques Hyrein's attention claiming it was more than they hoped for, and he decides to join the battle himself to end things.
Characters in Order of Appearance
[
]
Triggers in Order of Appearance
[
]
Promotional Video
[
]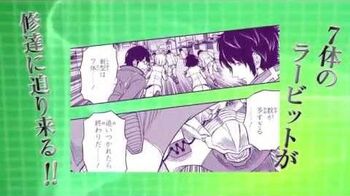 [

]