This page is about the character. For other uses, see Masataka Ninomiya (disambiguation).
"
Four-eyes is just a small-fry who gnaws at tactics. He has no chance of winning against someone who get can both strategize and fight.
"

–Masataka Ninomiya about Osamu Mikumo, in Tamakoma Second 7.
Masataka Ninomiya (二宮 匡貴, Ninomiya Masataka?) is the No. 1 Shooter, No. 2 overall combatant, and the leader of the No. 1 B-rank Unit, Ninomiya Unit.
Appearance
Edit
Ninomiya is a tall man with neck-length brown hair parted in the middle, and brown eyes. His trion body comes with a suit.
Personality
Edit
Ninomiya is a harsh person, using harsh words to criticize others.[4][5] He has a very strong view on compliments, believing that one should only compliment those who they believe to be superior to themselves.[6] He openly told Tamakoma Second that their only chance of personally recovering Rinji was to get Yūma into A-rank and send him alone to the Neighborhood.[7] Despite his apparent arrogance, Ninomiya is not above politely asking those he considers inferior for help.[3]
Relationships
Edit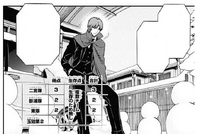 Mirai Hatohara: Ninomiya has very little respect for his former teammate, possibly due to a mixture of her inability to shoot opponents directly, and her breaking Border's rules by giving triggers to civilians, which demoted them to B-rank. It seems he still cares about her, however, as when there is a lull during the round 4 battle, there are 5 snowmen seen around him, totaling the number of members in his unit including her.
Kōhei Izumi: As top-tier Shooters, both of them have respect for each other and their opinions. Despite being the No.1 shooter at the time, Ninomiya asked Izumi to teach him techniques he lacked.[3]
Kei Tachikawa: Ninomiya seems to dislike Tachikawa, as he gets bothered with Tachikawa's comments during Tamakoma Second's third match.[4]
Nozomi Kako: They seem to have a strained relationship, as Kako becomes annoyed when he takes the lead during the Galopoula Invasion.[citation needed]
(About Kei Tachikawa) "That idiot Tachikawa... Who'd say he'd make a tin-pot analysis like that..." [8]
(About Osamu Mikumo) "Four-eyes is just a small-fry who gnaws at tactics. He has no chance of winning against someone who can both strategize and fight." [9]
(About Mirai Hatohara) "Look closely and try to remember. A boring woman with a fake smile in her face." [10]
Hating the cosplay look, he set the uniform of his squad to black suits not realising that it resulted in the most cosplay-like look.[11]
References
Edit
Community content is available under
CC-BY-SA
unless otherwise noted.