Miyoshi (三好, Miyoshi?) is a character in the anime and manga series World Trigger. He's one of Osamu and Yūma's classmates.
Appearance
Edit
Miyoshi is a teenage boy of average height. He has short brown spiky hair. He also has black eyes. He also has a rather dark skin complexion. He is usually seen wearing his school's uniform, a dark blue blazer and dark blue necktie with white stripes over a white polo and gray-blue pants.
Personality
Edit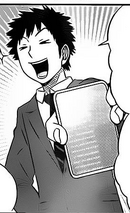 Miyoshi is a big fan of Border, who wants to join the organization and gathers a lot of information about it. His obsession with Border comes to a point where it's scary, according to Futatsugi.[1]
Relationships
Edit
"Miyoshi" (

三好

?) means "three, virtuous".
His Japanese voice actor, Yūsuke Handa, also voices Hidehide Hinoe, while his English voice actor, Nick Wolfhard, also voices Shun Midorikawa.
References
Edit