The
Neighborhood
(

近界

Neibāfuddo

?, lit. "Near World")
, also referred to as
Neighbor World
(

近界民の世界

Neibā no Sekai

?)
, is the world from another dimension where
Neighbors
and
Trion Soldiers
originated, including
Yūma Kuga
.
Each country travels across the sea of darkness on their own orbits, like average celestial bodies. Yūgo Kuga called this existence "Planet Nation" (惑星国家, Wakusei Kokka?). Their movements are a bit different from those of planets orbiting the sun, but many of planet nations brush by human world while revolving closer and farther.[1] Every planet runs on a star (which itself is a Trigger). The star must be kept fueled, or it will die, and the land would eventually crumble.[2] Only when they're close to Earth, that they can send out their Expedition Ship and open an interdimensional gate to carry out an invasion.[1]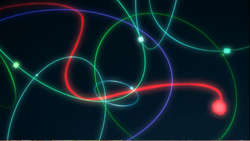 Certain planet nations don't have fixed orbits and fly around freely in the Neighborhood. These have been called "Errant Nations" (乱星国家, Ransei Kokka?).[3]
Geography
Edit
There are currently 9 known nations:
Orbiting Nations
Edit
Errant Nations
Edit
In the mini-skit at the end of the episode, in which the Neighborhood is described, the diagram of orbits resembles a classical diagram of the atomic nucleus.
References
Edit
Community content is available under
CC-BY-SA
unless otherwise noted.