"
To us... Our purpose in the "Old Border" was to connect this world to the neighbors.
"

–Yuri Rindō about the Old Border.[1]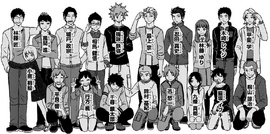 Old Border (旧 ボーダー, Kyū Bōdā?) refers to Border before it went public and prior to the death of 10 of its initial members.
History
[
]
Before it became publicly-known, Border was a secret organization with the purpose of being an intermediary between 'Earth' and the Neighborhood. To realize this goal, Border made an alliance with Aristera, Meson, and Dexio, where each vowed to protect each other in the case of an invasion by hostile forces.[2] After the fall of Aristera, Border gave refuge to its royal heirs Yōtarō Rindō and Ruka Shinoda, in turn gaining possession of its Mother Trigger.[3]
During its peak, Old Border had 19 people within its ranks. However, about five years before the start of the series, one of the allied nations was invaded by a hostile nation; when Borders sent its forces to assist, 10 out of 19 members died, with some becoming Black Triggers.[4]
Some time after the incident, the surviving members separated themselves into two groups: one group went on to establish the current HQ[5] while the other stayed and established Tamakoma Branch.
Legacy
[
]
Following its separation, most of its grassroots were adopted by Tamakoma Branch. This includes the building it used as headquarters, the emblem, and its founding principles.
Members
[
]
Alive
Masamune Kido
Headquarters
Masafumi Shinoda
Headquarters
Ryōji Kiriyama
Headquarters
Takumi Rindō
Tamakoma Branch
Kirie Konami
Tamakoma Branch
Reiji Kizaki
Tamakoma Branch
Yūichi Jin
Tamakoma Branch
Yuri Rindō
Tamakoma Branch
Mato Kujō
Left Border
Deceased
Shin Kazama

Kengo Sōma

Tetsuya Umesaki

Hibiki Taira

Sōichi Mogami

Manabu Kai

Kaede Namekata

Rintarō Chihiro

Motoki Suzumura

Ibuki Wakisaka
Trivia
[
]
Ibuki Wakisaka's name seems to have been taken directly from Trigger Keeper's Ibuki Kirishima.
References
[
]