Raijinmaru (雷神丸, Raijinmaru?) is a character in World Trigger. She is a resident in Tamakoma Branch and Yōtarō Rindō's pet capybara. She is also Border's crown trigger, whose duty is to protect the Aristeran prince Yōtarō Rindō.[3]
Appearance
[
]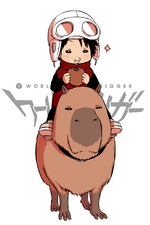 Raijinmaru looks like a common capybara, with a large head, big body, and short, thin legs. Her body is covered mostly in light brown fur, with darker fur coating the tip of her snout and limbs.
Personality
[
]
Not much is known about Raijinmaru's personality, but she seems to be a very lazy, laid back, and gluttonous capybara. However, should Yōtarō be in any serious danger, she is capable of becoming very destructive to quell the threat. [3]
History
[
]
Raijinmaru was Border's crown trigger whose purpose was to defend Yōtarō.[3] She joined Border during its debut.[5]
Plot
[
]
Raijinmaru appears multiple times in Tamakoma Branch, with Yōtarō seen on numerous occasions riding, petting, or rubbing her stomach.
She is seen with Yōtarō atop her after Osamu's battle with Midorikawa. Yoneya was babysitting him for his cousin.[6]
Yōtarō sits on top of her while watching the rank battles. During the Galopoula Invasion, Yōtarō rides on her in search of Hyuse to return Lampyris to him.[7]
Abilities
[
]
This article or section is a stub!
Trivia
[
]
Raijinmaru is actually female, contrary to Tamakoma members' beliefs.[2]
"Raijin" (

雷神

?) is the Shintō god of lightning, thunder, and storms. "Maru" (

丸

?), meaning "perfection" or "full circle", is a common suffix for Japanese male names (despite the fact that Raijinmaru is a female).
Raijinmaru's name comes from the dog of Yōtarō's favourite television hero.[4]
According to Border Briefing File, Raijinmaru is both Border's most popular and the least concerned with popularity, while Yuiga is both the least popular and the most concerned with popularity.[8]
References
[
]
[

]