Shōhei Kodera (古寺 章平, Kodera Shōhei?) is an A-rank Sniper and member of Miwa Squad.
Appearance
[
]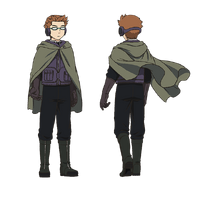 Kodera has brown hair slicked back, with short messy upward hair on his fringe. He also wears glasses.
Like the rest of his squad when he is in his trion body, he gets a flak jacket, headset, padded gloves, and zipped-up Wellington boots. Being a Sniper, he usually equips Bagworm over his clothes.
Personality
[
]
Kodera is a well-mannered, somewhat timid person, but has learned to put his foot down when the need arises.[4] He has a lot of respect for his teammates, principally Narasaka, whom he considers his higher-up. Due to his house being destroyed by Neighbors, he dislikes them. But he doesn't seem to be as serious about it as Miwa or Narasaka.
Relationships
[
]
Shiori Usami: Kodera appears to have a crush on Usami, as exhibited by his behavior when Usami compliments him on his commentary. He also is envious when Kikuchihara is put into a headlock by her.[5]
Quotes
[
]
Trivia
[
]
According to Volume 2, he likes:[6]

Coffee
Collecting and analyzing data
References
[
]
[

]