Tamakoma Second 18 (玉狛第二 ⑲ Tamakoma Daini 19?) is chapter 158 of the World Trigger manga.
Round 6 of Rank Battle ends with Tamakoma Second's victory.
Ōji is forced to Bail Out, but not before crippling Yūma; regardless, Tamakoma Second earns the point. Ikoma begins pursuing Yūma, who proceeds to cut down Oki since the latter has been pinned down by Chika's Lead Bullet. This gives Tamakoma Second yet another point. Yūma tries to jump away from Ikoma, but Ikoma uses Senkū Kogetsu to slash Yūma in midair. Yūma Bails Out, giving Ikoma Unit one point. Chika voluntarily Bails Out, leaving Ikoma as the sole survivor. However, Tamakoma Second claims the victory as it garnered the most points. Tōma, Kunichika, and Kitazoe discuss the match; the verdict being that Tamakoma Second's strategy hinged on the completion of the wire formation. Also, the team is heavily dependent on Yūma. According to Tōma, what Tamakoma Second needs is a fighter who can hold their own against opponents.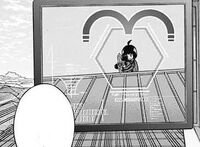 Community content is available under
CC-BY-SA
unless otherwise noted.