Tsukihiko Amō (天羽 月彦, Amō Tsukihiko?) is an S-rank agent who uses an unknown Black Trigger.
Appearance
[
]
Amō is a young boy with messy neck-length black hair and narrow, grey-yellow eyes. His skin is pale with a light tan. He wears blue jeans, red shoes and a white hoodie.
Personality
[
]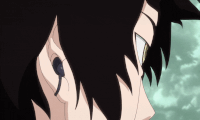 According to Karasawa, his behavior is troublesome and could pose a potential liability for Border if publicly displayed.[1] He seems to be a thorough person, going so far as to destroy a large portion of the Forbidden Zone when defeating trion Soldiers during the invasion. He also seems to enjoy challenges, and is bored by weak opponents.[2]
Relationships
[
]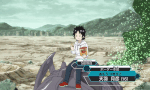 He seems to have a good relationship with his former fellow S-rank agent. He fulfilled Jin's request without much complaint[3] and was later seen enjoying some of Jin's rice crackers with a blissful look on his face after he finished in an anime-only scene.
Trivia
[
]
In Japanese, his name Amō (

天羽

?), means "heaven's feather"; Tsuki (

月

?)) means "moon" and hiko (

彦

?) is a male noble (male version of hime) and it is also a common ending for boys' names.
He likes water, hamburgers, chocolate, and fighting with strong opponents.
References
[
]
[

]