"
You know, you're really cute. May I marry you?
"

–Yōtarō Rindō, talking to Chika[1]

Yōtarō Rindō (林藤 陽太郎, Rindō Yōtarō?) is a character in the manga and anime series World Trigger. He is the prince of the fallen planet known as Aristera, the younger brother of Ruka Shinoda, and a resident of Border's Tamakoma Branch. He is not related to Takumi or Yuri Rindō by blood; rather, he was given their surname in order to pretend that he is related to the former, thus allowing Border to shelter him.
Appearance
[
]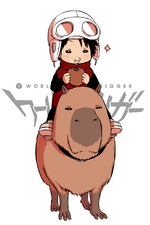 Yōtarō is a little kid with messy black hair framing his face. He usually wears a red puffy vest with black sleeves, black slacks, and white shoes. He also sports a helmet with goggles, made for him by Reiji.[5]
Personality
[
]
Yōtarō is not shy at all, being the outspoken youngin he is. More often than not he does things he is not supposed to, and is prone to outbursts. He is childish with a tinge of naivety, as he believes Raijinmaru to be a dog. The little boy is frequently getting into fights, for which reason Kizaki created a helmet for him, to protect him from himself.[5]
Relationships
[
]
Quotes
[
]
Trivia
[
]
"Yō" (

陽

Minami?) means "yang, light, sun". "Tarō" (

太郎

?) is a common male given name, as well as a name suffix. "Rindō" (

林藤

?) means "forest wisteria".
He likes the snacks that other people are eating, girls, and riding Raijinmaru on walks.
He is based on

Yōtarō Shinoda

from the Talented Elite Jin one-shot.
References
[
]
[

]