Jurassic World: Dominion Dominates Fandom Wikis - The Loop
Play Sound
This article is about the character. For other uses, see Yūma Kuga (disambiguation).
"
Even though my chances of winning are slim, I still can't run away.
"
Yūma Kuga (空閑 遊真, Kuga Yūma?) is one of the four main characters.[9] He is a young mysterious Neighbor Teen as well as one of the two ace attackers in the rookie B-Rank team of Tamakoma Second.
Appearance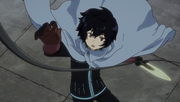 Yūma is shorter than the average for his age range. He has white hair and red eyes. It is later revealed that his hair was originally black and his body had stopped growing since he was 11 years old because it was made out of trion, thus explained his short stature[6].
He wears a blue suit top and gray bottoms traditional of Japanese high school students. When not in his trion body or school uniform, he usually wears a purple hoodie with a paw symbol and the text "UMA" (which stands for "Unidentified Mysterious Animal"), and beige baggy jeans pants.
In Black Trigger mode, Yūma gains a black jumpsuit which Replica can fuse itself with. In C-rank trion body, unlike most other trainees, he gains an all-black uniform, instead of the classical all-white one; it has a black jacket with thick white stripes running down from the sides of his collar to the sides of his sleeves and also around his collar and thin gray stripes in the borders of the zip fastener and collar.
In B-rank trion body, he has a uniform similar to Osamu's, except his jacket's left sleeve doesn't have a shoulder guard. His right arm also has the same design as his left, unlike Osamu's, making his jacket more symmetrical. Also, the black stripes on his jacket's sleeves are thinner and, unlike Osamu's, don't have white stripes in the middle, and the black stripes go over his shoulders and collar. On the sides of his shoulders, he has Tamakoma Branch emblem, surrounded by the stripes. In addition, the sleeves of his jacket somewhat merge with his gloves, and he tucks his pants inside his boots, like when he was a C-rank agent. His Squad's emblem is located on his left chest.
Personality
Yūma has a laid back personality and is not very knowledgeable about Japanese customs, being from another world (despite having a Japanese father), leading to some run-ins with rough people. He is logical, advising Mikumo to stay away from the trion Battle Soldier rather than save the students as Mikumo could die. He seems to be aligned with Border's cause, fighting against Neighbor forces. Despite his happy exterior, he is actually deeply depressed due to his father's sacrifice to revive him.
Initially, his only sense of purpose was to revive his father, as he felt tremendous responsibility for his death.[10] However, after meeting Osamu, Yūma decides that his purpose is to support Osamu in his goal.[11]
Quotes
(To various people) "You make up the stupidest lies."
(Talking to thugs.) "I told you that I'd send you flying. You guys... Shouldn't lie." [12]
(To Usami) "Hmph. In other words, if I want to become a B-rank, it'll be alright if I kick the C-rank guys' asses." [14]
(To Shu Midorikawa) "You know...lying is a bad habit."
(To Rindō) "I'm not really upset, we all trained the same way. I won't be able to win all the time, but, fighting strong people is fun. The person who thought of ranked matches is smart, especially the part where the loser doesn't die." [16]
(referring to his father) "There are three lessons he taught me when I was six. Lesson one: Protect yourself, by yourself. Parents can't protect you forever. Work out or think hard and figure out a way to take care of things by yourself. Don't get close to things you can't take care of. Use your imagination to avoid danger. Lesson two: There's more than one answer. Things can be resolved in many ways. On the contrary, there's no answer in some cases. Don't get hung up with one way. And finally, lesson 3: Don't think your parents are always right." [18]
Trivia
"Yūma" is a combination of two words meaning "to play" (

遊

?) and "real, genuine" (

真

?), together his name means "to play for real" or "playing real," which relates to his attitude as a member of Border. "Kuga" is a combination of "sky" (

空

?) and "leisure" (

閑

?).
The creator, Daisuke Ashihara, mentioned that even without Yūma's postponed phase, he would have kept Yūma at the same height if it were not a part of the plot.

He also stated that he himself does not think of Yūma as small, but incorporates the concept of characters referring to him as so to show that height does not matter—also seen as how Yūma lets it slide, instead of viewing it as an asset.[19]

Yūma has a habit of doing duckfaces, which have become a meme among the manga's fans.
Yūma tends to scare people with his eyes.[20]
His "UMA" hoodie might be a reference to his name, as "UMA" (ユーマ) and "Yūma" (遊真, ゆうま) are homophonous in Japanese.
Yūma apparently dislikes being called "senpai," as he tells Midorikawa to call him just "Yūma" when the latter calls him "Yūma-senpai."[21]

Ironically, he previously ordered Midorikawa to call Osamu "senpai" should he defeat him in battle.[22]

He likes Japanese food.
He came second in the First Popularity Poll.
Yūma does not need to sleep, due to his natural body being made of Trion as well.
References