Yuu Kunichika (国近 柚宇, Kunichika Yuu?) is the Operator of Tachikawa Squad.
Appearance
[
]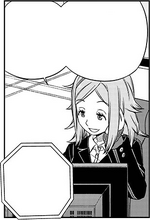 Kunichika is a young girl of average height. She has smooth, shoulder-length auburn hair, with has tufts of messy hair pointing outwards, and her fringe is parted to the left. She also has brown tareme eyes.
She is usually seen wearing the regular Operator uniform with a pink sweater.
Personality
[
]
Kunichika is friendly and kind, as evidenced by her not bullying Yuiga like Tachikawa and Izumi do. She appears to be an "older sister" figure to her younger teammates and the voice of reason in her team, such as stopping fights between Izumi and Yuiga.[2] She seems to be a nerd, as indicated by the vast collection of Video Game consoles in her room.[1][3]
Relationships
[
]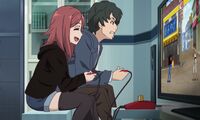 Kei Tachikawa: They seem to have a good relationship, as they're seen playing video games together when Osamu visits Tachikawa Squad's Operation Room.[4] Tachikawa described her as the moon behind the three swords in Tachikawa Squad's emblem.[5]
Kōhei Izumi: They appear to be on decent terms, as she has been described as very helpful by Izumi.[6]
Takeru Yuiga: Unlike Tachikawa and Izumi, she doesn't bully Yuiga. He turns to her when he feels ostracized, which means she might be lenient towards him.[7]
Trivia
[
]
She likes Ishikari Nabe (a type of hot pot from Hokkaido), buttered potatoes, and all types of games.[8]
According to Ashihara's Q&A, Kunichika's mother is from Hokkaidō.
Her Japanese voice actress, Umeka Shōji, also voices Mizunuma, Itsuki Fujisawa and Yūko Kumagai; while her English voice actress also voices Yōtarō Rindō.
References
[
]
[

]